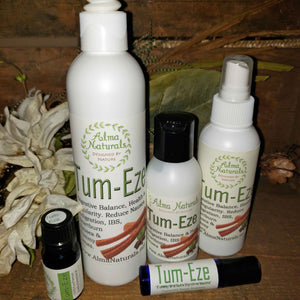 Alma Naturals Idaho
Tum-Eze
Regular price
$11.99
$0.00
Unit price
per
If you know me, you probably know I have a lot of 'tummy troubles'. This is probably due to my history of colon cancer. I've had lots of people ask me for something for tummy aches, heartburn, indigestion etc etc. I finally put together a blend that helps with digestive health as well as taming those little issues we all love to hate. Simply rub on your tummy once or twice a day for chronic issues, or just when you need a little 'help'. My little ones know what to grab when their tummy hurts! 
Includes Peppermint, Rosemary, Fennel, Cinnamon Leaf, Hyssop, Ginger, Grapefruit, Anise, Black Pepper, Cardamom and German Chamomile essential oils.
Available in 3 oz Lotion, 8 oz Lotion (with pump), 4oz Spray, 10mL Roll-on & 10mL Essential Oil.

Roll-on - diluted in fractionated coconut oil

Spray - diluted in a base of aloe juice, witch hazel, black willow bark extract.
Lotion - diluted in a lotion base of Deionized Water, Glycerin, Prunus Amygdalus Dulcis (Sweet Almond) Oil, Stearic Acid, Cetearyl Alcohol, Cetyl Alcohol, Dimethicone, Glyceryl Stearate PEG-100 Stearate, Polysorbate 60, Tocopheryl Acetate (Vitamin E Acetate), Organic Aloe Barbadensis (Aloe Vera) Leaf Extract, Triethanolamine, BHT, Phenoxyethanol, Ethylhexylglycerin, Caprylyl Glycol, Hexylene Glycol


---