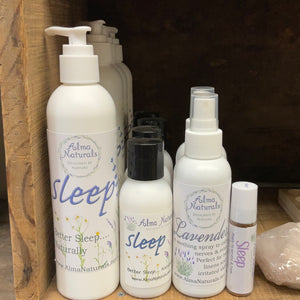 Alma Naturals Idaho
Sleep
Regular price
$11.99
$0.00
Unit price
per
This blend is specially formulated to help you fall asleep fast, and stay asleep. We prefer to apply it to the wrists or neck at bedtime, but if the smell is too much for you, you can put it on the tops of your feet. Valerian root - it stinks, but it works. Don't worry, you wont smell bad in the morning! Try the lavender spray on your pillow!

Includes: Roman Chamomile, Valerian root, Lavender, Orange, Ylang Ylang, Geranium and Marjoram essential oils.
Available in A 10mL Roll-on & 10mL Essential Oil. Also available is a Lavender spray, with pure Lavender essential oil.

Roll-on - diluted in fractionated coconut oil

Spray - diluted in a base of aloe juice, witch hazel, black willow bark extract.
PLEASE NOTE we have discontinued the lotion and are working on a 'stick' balm formula.  We do still have the roll on available.
---