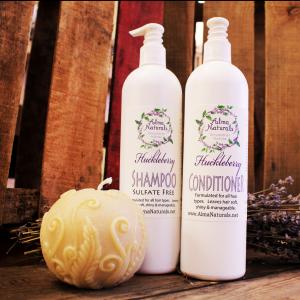 Alma Naturals Idaho
Natural Conditioner
Regular price
$5.99
$0.00
Unit price
per
We are having trouble obtaining certain ingredients and therefore have not been able to continue this formula.  We will try to remove options as they run out, but we may have to substitute if we dont catch it in time.  We are working on a new reconstructive conditioner we think you will love just as much!  Until then, grab this while you can, we do not know if we will be able to make more in the future!
Fall in love with our natural sulfate-free shampoo and conditioner!  The shampoo cleans without toxic chemicals and leaves your hair squeeky clean, shiny and full of body.  Works great with all hair types and does not strip hair of color.  Our conditioner moisturizes without weighing down your hair, leaving it soft, smooth and ready for whatever product you use, but if you are more of a brush n go type, you'll love the way it leaves your hair feeling.  Save when you purchase a set!
Comes in a 16 oz bottle with pump, or a 3 oz travel/trial size.
Options:
Peppermint: Invigorating and stimulating, made with Peppermint Essential Oil. (Conditioner only)
Citrus Burst: Start your morning right with this happy blend of Lemon, Lime, Pink Grapefruit, Litsea, Mandarin and Sweet Orange Essential Oils.
Bali Mango: A long time favorite, just like B&BW makes!
Pineapple Mango: A customer favorite - you can't go wrong with this one!
Conditioner Ingredients: water, vegetable glycerin, olive oil, grapeseed oil, sorbitan laurate, cetyl alcohol, behentrimonium chloride, cocamidopropyl betaine, panthenol, hydrolyzed rice protein, peppermint essential oil, citric acid, lactic acid, ascorbic acid, potassium sorbate.
Vegetable glycerin is derived from vegetable oil and works as a softener and humectant.
Sorbitan Laurate is a mild cleanser derived from coconuts.
Cetyl alcohol is a thickener derived from coconuts.
Behentrimonium chloride is derived from canola oil. It conditions, detangles, fights static, softens and rebuilds damaged hair by penetrating the shaft rather than just coating it.
Cocamidoprpyl betaine removes surface oil, dirt and bacteria. Derived from coconuts.
Potassium sorbate is a food grade preservative that comes from fatty acids.
---