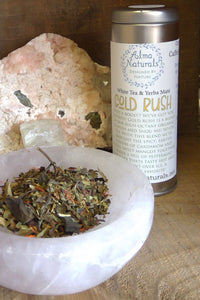 Alma Naturals Idaho
Gold Rush Yerba Maté & White Tea
Regular price
$7.99
$0.00
Unit price
per
Need a boost? We've got you covered! Gold rush is a blend of our high-octane organic Yerba Maté and Shou Mei White Tea. With this blend we've brought the spicy, earthy flavors of cardamom and fresh, sweet mangos together under a veil of peppermint for a tea that's tasty hot and excellent over ice. A customer favorite!
For the perfect cup: 1tsp/8oz Steep at 180° 5 minutes. Excellent Cold.
Caffeine Level: Moderate 
Ingredients: Shou Mei White Tea, Yerba Maté, Spearmint, Dried Mango, Dried Papaya, All Natural Flavors, Safflower Petals.
Net weight: 1.5 ounces in a resealable pouch
---