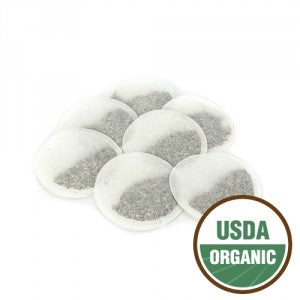 Alma Naturals Idaho
Earl Grey
Regular price
$5.99
$0.00
Unit price
per
This blend unites our full bodied black teas creating an exceptionally rich black tea, fermented to perfection, with a touch of citrusy bergamot oil, creating a light refreshing taste. This combination creates an ultra fine tea where precision and process gives birth to this much revered beverage. While Earl Grey possesses the delicacy and nuance of flavor to the be enjoyed on its own, it's also beautifully accentuated with a slice of lemon and goes well with citrus or buttery flavored pastries. It can be served hot with or without milk or sugar/honey, and is an excellent drink for any time of the day.
The paper is free of dyes, adhesive, and glue, and is oxygen-bleached (no chlorine used), therefore eliminating dioxins.
Compliant for all food standards, including organic.
Non-GMO and free of allergens and epichlorohydrin.
Ingredients: Organic China Black F.O.P. Tea, Organic Assam T.G.F.O.P. Tea, and organic bergamot oil.
Caffeine level: Moderate
Each bag contains 10 tea sachets (bags).  Each one can brew up to 3 cups of tea.
---