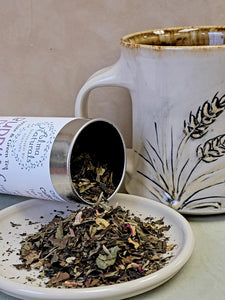 Alma Naturals Idaho
Buddha's Dream
Regular price
$9.99
$0.00
Unit price
per
A tea worthy of meditating over!  Buddha's Blend combines all of the elements needed to reach palate paradise. A soft blend of white and green tea, with accents of floral, fruit flavors.  This contemplative tea is sure to bring a bit of enlightenment to your day.
For the perfect cup: 1tsp/8oz Steep at 180° 3 minutes. Excellent Cold.
Caffeine Level: Low/Moderate
Ingredients: White Tea, Gunpowder Green Tea, Jasmine Chun Hao Tea, Natural pineapple and peach flavors, rose petals, marigold flowers.
Net weight: 1.25 ounce pouch
---