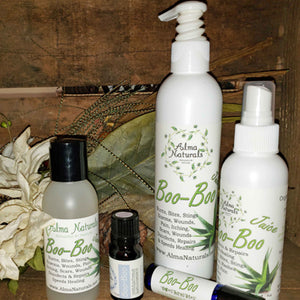 Alma Naturals Idaho
Boo-Boo Juice
Regular price
$11.99
$0.00
Unit price
per
A must-have for every home (especially with kids)! This blend of aloe jelly and essential oils is excellent to use on all kinds of bumps, bruises, wounds and burns.
*Disinfects
*Stimulates Immune System
*Reduces swelling, tissue damage & scarring
*Promotes healing & elasticity
*Anti-itch & Pain relieving
People have reported excellent results when used on dermatitis, eczema, psoriasis, acne and other rashes!

Includes Lavender, Rosewood, Frankincense, Blue Tansy, Spruce, Roman Chamomile, Rosemary, Geranium, Palma Rosa, Tea Tree, Eucalyptus and Bergamot essential oils.
Available in 3 oz Lotion, 8 oz Lotion (with pump), 4oz Spray, 10mL Roll-on & 10mL Essential Oil.
Roll-on - diluted in fractionated coconut oil
Spray - diluted in a base of aloe juice, witch hazel, black willow bark extract.
Gel - diluted in a base of Organic Aloe Leaf Juice (Aloe Barbadensis), Hydroxyethyl Cellulose (plant based thickener), Phenoxyethanol, Tetrasodium Glutamate Diacetate.
---