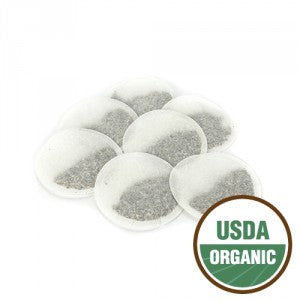 Alma Naturals Idaho
Turmeric Chai
Regular price
$7.99
$0.00
Unit price
per
This tasty tea blend gives a therapeutic twist to the traditional Chai Tea, without being blended with green or black teas. The primary active ingredient in Turmeric is curcumin, a potent antioxidant to help promote optimum health and well-being and support and your body's natural defenses. This uniquely different flavorful blend offers a delicious chai flavor while providing you with therapeutic qualities. Chai Teas are usually sweetened, so try adding a pinch of stevia, a dash of vanilla, or even milk. It tastes great whether served hot or cold! 
The paper is free of dyes, adhesive, and glue, and is oxygen-bleached (no chlorine used), therefore eliminating dioxins.
Compliant for all food standards, including organic.
Non-GMO and free of allergens and epichlorohydrin.
Ingredients: Organic turmeric root, organic cinnamon, organic cardamom seed, organic cloves, organic fennel seed, organic ginger root, organic licorice root, and organic black pepper.
Caffeine level: None
Each bag contains 10 tea sachets (bags).  Each one can brew up to 3 cups of tea.
---