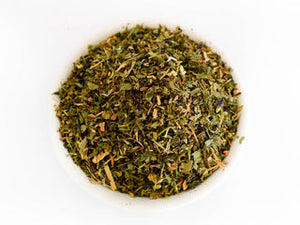 Alma Naturals Idaho
Pain Loose Leaf Tea
Regular price
$15.99
$0.00
Unit price
per
*New Improved Formula*
Our organic Pain is very easy to drink. A lot like a mild green tea, the cup develops gentle vegetal notes that finish light and nutty. This incredible tisane is always best served hot. To thin out the flavor feel free to add more hot water, a slice of lemon, or a touch of sweetener. We recommend a drop of honey for a sweetener, but sugar or agave are also delicious.
Reduce your pain or discomfort with this delicious, effective combination of organic herbs. Decreasing systemic inflammation may ease the symptoms of arthritis, allergies, skin problems, insulin resistance, irritable bowel syndrome and heart disease.

Organic Ingredients: devil's claw root, dandelion root, licorice root, turmeric root, cinnamon, orange peel, peppermint leaf.
Each pouch contains 3.5 ounces loose leaf tea.
---