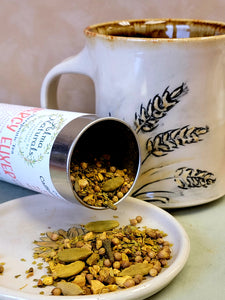 Alma Naturals Idaho
Energy
Regular price
$11.99
$0.00
Unit price
per
Taking inspiration from ancient Indian practices, our Energy Elixir is a vibrant and energizing blend of Organic Yerba Mate, a powerfully caffeinated herbal tea, and spices designed to perk you up. Warming cloves, nutmeg and cinnamon mingle among spicy ginger root and turmeric root powder. Best served hot.
Organic Ingredients: Ginger Root Pieces, Cardamom Pods, Coriander, Yerba Mate Herbal Tea, Whole Cloves, Cinnamon Chips, Ground Turmeric Root, All Natural Flavor, Ground Nutmeg. 
Use 1 tsp per 8 oz hot water.  Steep 5-10 minutes.  
3 ounces loose leaf tea.
---