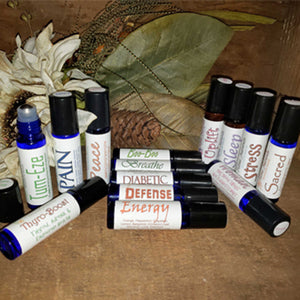 Alma Naturals Idaho
Essential Formulas Roll-Ons
Regular price
$11.99
$0.00
Unit price
per
Our 'Essential Formulas' consist of our core blends created to help you through every part of your day.  To see the other blends available, choose the Essential Blends product.  
Each blend is diluted in fractionated coconut oil for quick absorption and long shelf life. Our dilution ratios vary, based on the maximum safe % ratios for the oils in each blend.  Rest assured, you can use these safely as well as easily!
These roll ons come in 10mL glass (with UV protection despite the color of the glass) and either a stainless steel ball or a glass ball (we haven't decided which we like best so feel free to let us know what you think of either one).
Boo-Boo Juice: Lavender, Rosewood, Spruce, Tea Tree, Frankincense, Blue Tansy, Geranium, Roman Chamomile, Rosemary, Eucalyptus and Bergamot.
Breathe: Eucalyptus Globulus, Eucalyptus Radiata, Eucalyptus Lemon, Peppermint, Ravinsara, Basil, Rosemary, Laurel Leaf, Ginger and Lemon essential oils.
Defense: Rosemary, Eucalyptus, Cinnamon Bark, Clove and Lemon.
Diabetic: Clove, Fennel, Cinnamon Bark, Coriander and Ocotea.
Energy: Bergamot, Cinnamon Leaf, Pink Grapefruit, Lemon, Lime, Mandarin, Sweet Orange, Patchouli, Peppermint, Rosewood, Tangerine, and Ylang Ylang.
Firm: Juniper Berry, Lavender, Geranium, Bergamot, German Chamomile, Roman Chamomile, Rosemary, Pink Grapefruit, and Fennel.
Pain: Helichrysum, Cypress, Lavender, Thyme, Marjoram, Lemongrass, Copaiba, Balsam Fir, Elemi, Clove, Wintergreen, Palo Santo, Peppermint, Black Pepper, Roman & German Chamomile, Basil, Pine, Juniper Berry, Rosemary, Ravensara, Lemon, Oregano, Eucalyptus, Fennel, Cinnamon Leaf, Citronella, Ginger, Grapefruit and Spearmint.
Pain with Cannabis: Same as our Pain blend but we added Cannabis essential oil.  No worries!  It is completely THC free, but is a very fast pain-blocker!
Peace: Blue Tansy, Orange, Patchouli, Ylang Ylang and Tangerine.
Sacred: Frankincense (boswellia carterri), Sacred Frankincense (boswellia sacra), Cypress, Grapefruit, Orange, Lavender, Clove and Palo Santo.
Sleep: Roman Chamomile, Lavender, Valerian, Orange, Ylang Ylang, Red Mandarin, Geranium and Marjoram.
Stress: Lavender, Valerian, Roman Chamomile, Neroli, Ylang Ylang, Copaiba, Lime, Orange, Cedarwood and Ocotea.
Thyro-Boost: German Chamomile, Geranium, Cedarwood, Cypress, Rosemary, Orange, Frankincense, Peppermint, Clary Sage, Spruce and Pine.
Tum-Eze: Peppermint, Fennel, Rosemary, Cinnamon Leaf, Hyssop, Ginger, Grapefruit, Anise, Black Pepper, Cardamom and German Chamomile.
Uplift: Bergamot, Cinnamon Leaf, Elemi, Frankincense, Ylang Ylang, Geranium, Rosewood, Tangerine, Rose, Jasmine, Lime, Patchouli and Neroli.
Woman: Clary Sage, Fennel, Cypress, Lavender, Basil, Bergamot, Thyme, Orange, Rose, Jasmine, Patchouli, Geranium, Peppermint and Oregano.
---