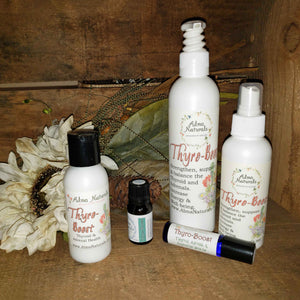 Alma Naturals Idaho
Thyro-Boost
Regular price
$11.99
$0.00
Unit price
per
I have no thyroid. It's gone. Surgically removed. It sucks. But I've found a way to strengthen my other systems to make up for it. This blend of essential oils will not only boost your thyroid, but also your pineal, pituitary, adrenal and endocrine systems. Use 1-2 times a day. Rub over your thyroid (front of the neck) as well as the back of the neck and over the kidney area (lower back). You can even dab a little on the forehead. I've been using this for years and I definitely notice a difference if I stop using it. We've had amazing reports from our customers! It also makes a great pick me up when those afternoon lulls hit.

Includes German Chamomile, Geranium, Cedarwood, Cypress, Rosemary, Orange, Frankincense, Peppermint, Sage, Spruce and Pine essential oils.
Available in 3 oz Lotion, 8 oz Lotion (with pump), 4oz Spray, 10mL Roll-on & 10mL Essential Oil.

Roll-on - diluted in fractionated coconut oil

Spray - diluted in a base of aloe juice, witch hazel, black willow bark extract.
Lotion - diluted in a lotion base of Deionized Water, Glycerin, Prunus Amygdalus Dulcis (Sweet Almond) Oil, Stearic Acid, Cetearyl Alcohol, Cetyl Alcohol, Dimethicone, Glyceryl Stearate PEG-100 Stearate, Polysorbate 60, Tocopheryl Acetate (Vitamin E Acetate), Organic Aloe Barbadensis (Aloe Vera) Leaf Extract, Triethanolamine, BHT, Phenoxyethanol, Ethylhexylglycerin, Caprylyl Glycol, Hexylene Glycol


---