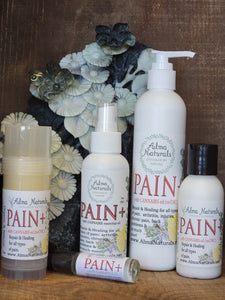 Alma Naturals Idaho
Pain Plus
Regular price
$15.99
$0.00
Unit price
per
Blending several essential oils into high quality, all natural products ensures that the right oil for your type of pain is there, bringing relief from sore muscles, chronic pain, joints, ligaments and more. Customers have reported relief from arthritis, shin splints, sore muscles, back and neck pain, knee pain and so much more. We created a custom blend and it was such a hit that we decided to add it to our product line. It quickly became our best selling product! This particular essential oil blend is extremely high in valuable biochemicals such as myrcene and beta-caryophyllene. It is a much smaller molecule as well, which allows it to penetrate the skin layers quickly and effectively. It is an incredible analgesic and antispasmodic.

Our 5 star blend includes Roman Chamomile, German Chamomile, Pine, Juniper Berry, Rosemary, Ravensara, Lemon, Oregano, Black Pepper, Peppermint, Dorado Azul, Palo Santo, Wintergreen, Clove, Elemi, Balsam Fir, Copaiba, Lemongrass, Birch, Marjoram, Lavender, Cypress, Basil, Eucalyptus, Fennel, Cinnamon Leaf, Citronella, Ginger, Grapefruit, Spearmint & Helichrysum, Hemp essential oil.
Available in 3 oz Lotion, 8 oz Lotion (with pump), 4oz Spray & 10mL Roll-on.
NEW! Now available in a STICK! Just twist up and apply where needed.

Roll-on - diluted in fractionated coconut oil (the small glass bottle laying on its side in the photo)
Stick - Castor seed oil, Organic coconut oil, Yellow beeswax, Organic Jojoba seed oil, and our special Pain Plus blend. (The balm in the twist up tube on the left in the photo).

Spray - diluted in a base of aloe juice, witch hazel, black willow bark extract.
Lotion - Deionized Water, Glycerin, Prunus Amygdalus Dulcis (Sweet Almond) Oil, Stearic Acid, Cetearyl Alcohol, Cetyl Alcohol, Dimethicone, Glyceryl Stearate, PEG-100 Stearate, Polysorbate 60, Tocopheryl Acetate (Vitamin E Acetate), Organic Aloe Barbadensis (Aloe Vera) Leaf Extract, Triethanolamine, BHT, Phenoxyethanol, Ethylhexylglycerin, Caprylyl Glycol, Hexylene Glycol. (essential oils above)

---