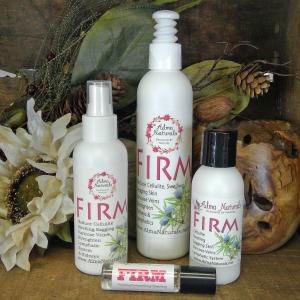 Alma Naturals Idaho
Firm
Regular price
$11.99
$0.00
Unit price
per
This high quality paraben free lotion is blended with essential oils to reduce cellulite and promote healthier, firmer skin. This combination improves circulation and strengthens blood capillaries, discourages fluid retention and helps flush the toxins released from fat cells. Not only can it dissolve fat but it is a metabolic stimulant and detoxifier, supports normal hormone function and encourages regeneration and revitalization of skin cells. Customers have used it successfully for swelling, especially the feet. Others rave about its ability to firm up the neck/chin area. Works wonders with the lymphatic system.

Includes Juniper Berry, Lavender, German Chamomile, Roman Chamomile, Rosemary, Grapefruit, Bergamot and Geranium essential oils.
Available in 3 oz Lotion, 8 oz Lotion (with pump), 4oz Spray, 10mL Roll-on & 10mL Essential Oil.

Roll-on - diluted in fractionated coconut oil

Spray - diluted in a base of aloe juice, witch hazel, black willow bark extract.
Lotion - diluted in a lotion base of Deionized Water, Glycerin, Prunus Amygdalus Dulcis (Sweet Almond) Oil, Stearic Acid, Cetearyl Alcohol, Cetyl Alcohol, Dimethicone, Glyceryl Stearate PEG-100 Stearate, Polysorbate 60, Tocopheryl Acetate (Vitamin E Acetate), Organic Aloe Barbadensis (Aloe Vera) Leaf Extract, Triethanolamine, BHT, Phenoxyethanol, Ethylhexylglycerin, Caprylyl Glycol, Hexylene Glycol


---