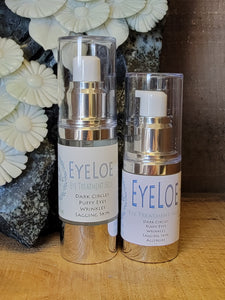 Alma Naturals Idaho
EyeLoe (Eye Serum)
Regular price
$18.99
$0.00
Unit price
per

This blend uses a simple Aloe jelly with 2 high end 'actives' loved by celebrities. Add in the essential oils and you have the perfect eye treatment jelly! Use 1-2 times a day on eye area or entire face. Comes in a 35mL or 15mL airless pump bottle.

Now includes Cucumber & Cranberry extracts!

Actives:

Eyeliss: The answer to those undereye bags! Made up of 3 natural peptides that strengthen capillaries, reduces swelling & that purple/blue color. Actually promotes the drainage of fluid that collects under the eyes which reduces puffiness, decreases inflammation, improves skin elasticity, firmness and more!

Gatuline: Boosts cell activity with a new kind of energy, reinforcing their natural protective systems and regeneration. Smoothes complexion, brightens skin, increases firmness and prevents damage.

Essential oils include:

Frankincense
Lavender
Geranium
Cypress
Tangerine
Customers are seeing amazing results far faster than we ever expected!
---