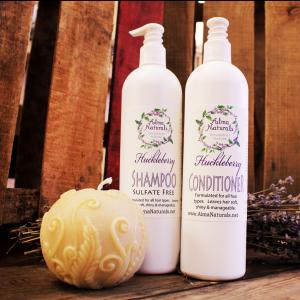 Alma Naturals Idaho
Natural Shampoo & Conditioner Set
Regular price
$35.99
$0.00
Unit price
per
Fall in love with our natural sulfate-free shampoo and conditioner! The shampoo cleans without toxic chemicals and leaves your hair squeeky clean, shiny and full of body. Works great with all hair types and does not strip hair of color. Our conditioner moisturizes without weighing down your hair, leaving it soft, smooth and ready for whatever product you use, but if you are more of a brush n go type, you'll love the way it leaves your hair feeling. Save when you purchase a set! *Hint - a little goes a long way, so don't use too much to start with!
Comes in a 16 oz bottle with pump.
Options:
Lavender: Who doesn't love lavender? Made with our High Altitude French Lavender Essential Oil.
Huckleberry: We added the scent of lush wild huckleberries - but don't worry! It's phthalate free & non toxic!
Payette Lakes: One of our top selling scents - fresh, clean, sweet and perfect for everyone!
Bali Mango: A customer favorite - you can't go wrong with this one!
Peppermint Conditioner: Invigorating and stimulating, made with Peppermint Essential Oil.
Perfect Shampoo: Perfect for those with thinning hair or scalp issues (dandruff, itchy, etc). Essential oils: Basil, Cedarwood, Cypress, Lemon, Rosemary, Bay, Grapefruit, Geranium, Lavender, Patchouli, Tea Tree & Mandarin.
Minty Tea-Tree Shampoo: Not only is this great for the scalp, but the essential oils are known to repel insects such as lice and fleas. Essential oils: Peppermint, Tea Tree & Spearmint.
Shampoo Ingredients: water, sodium methyl-2 sulfolaurate, disodium 2-sulfolaurate, cetyl betaine, lauryl lactyl lactate, aloe juice, sodium lauroyl lactylate, flax extract, panthenol, glycol distearate, guar hydroxyproply, trimonium chloride, natural 
Sodium methyl-2 sulfolaurpreservatives.
So what the heck is all that mumbo jumbo?
Sodium methyl-2 sulfolaurate is derived from coconuts and is a mild, non-drying cleanser.
Disodium 2-sulfolaurate is a mild cleanser that removes surface oils and dirt without stripping or drying. Derived from coconut and palm.
Cetyl betaine comes from beets! It provides texture while softening and conditioning the hair.
Lauryl lactyl lactate conditions and lubricates while boosting foaming action. It is naturally derived, the reaction product of lauryl alcohol and lactic acid.
Sodium lauroyl latylate is a type of salt derived from coconuts.
Panthenol is pro-vitamin B5 that comes from rice husks and deeply moisturizes and heals.
Glycol distearate is a naturally occuring fatty acid.
Guar Hydroxyproply is a cleanser derived from guar gum.
Trimonium chloride is an organic compound that cleanses, conditions and reduces static.
See? Lots of crazy words for simply natural ingredients :)

Conditioner Ingredients: water, vegetable glycerin, olive oil, grapeseed oil, sorbitan laurate, cetyl alcohol, behentrimonium chloride, cocamidopropyl betaine, panthenol, hydrolyzed rice protein, peppermint essential oil, citric acid, lactic acid, ascorbic acid, potassium sorbate.
Vegetable glycerin is derived from vegetable oil and works as a softener and humectant.
Sorbitan Laurate is a mild cleanser derived from coconuts.
Cetyl alcohol is a thickener derived from coconuts.
Behentrimonium chloride is derived from canola oil. It conditions, detangles, fights static, softens and rebuilds damaged hair by penetrating the shaft rather than just coating it.
Cocamidoprpyl betaine removes surface oil, dirt and bacteria. Derived from coconuts.
Potassium sorbate is a food grade preservative that comes from fatty acids.
---